Loud & Clear: How much does Spotify pay artists?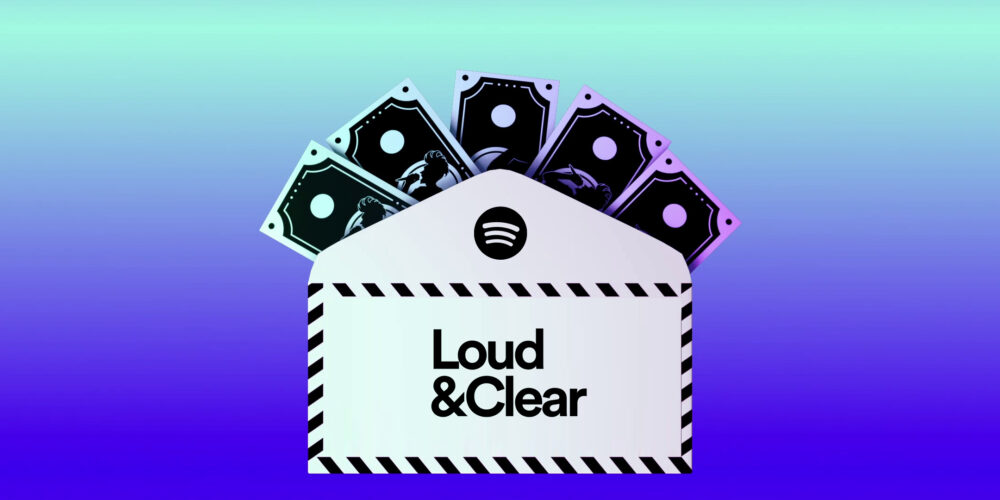 What you'll learn in this post:
Spotify paid out 7 billion to rights holders
52,600 artists generated more than 10k, 1,040 more than one million
Why Spotify thinks they only have 200,000 professional artists on their platform
In March of 2021, Spotify released Loud & Clear to counter the criticism they received on their lack of transparency in payouts. The page has now received an update with the latest numbers. We dove in to categorize the data.
Spotify paid out 7 billion
First, let's look at the biggest sum of all: last year, Spotify paid 7 billion dollars to music rights holders. This is significantly more than the previous years: In 2020, it was 5 billion dollars, and it 2017, the number only reached 3.3 billion. Since the creation of Spotify in 2008, the company has paid out more than 30 billion to rights owners.
Spotify's profits in 2021 reached 10.63 billion dollars, which means that they pay out 66% of their revenues to rights holders and keep a third of the share for themselves. When looking at these payouts, it is important to note that they encompass both the master rights, meaning the revenues paid via a label or distributor, as well as the publishing rights, meaning the payments made to the copyright collectives or publishers. However, this data only gives limited insight into how much the artists themselves actually receive, since labels, distributors, and publishers take their share, too.
52,600 Artists generate more than 10k
Let's start with the high-income earners: 1,040 artists generated more than one million dollars (it was 860 artists in 2020), 450 generated more than 2 million, and 130 generated more than 5 million. And the (upper) middle class? Well, 52,600 artists generated more than 10,000 dollars (2020: 42,500), 16,500 generated more than 50,000 (2020: 13,400), and 2,170 more than 500,000 (2020: 1,800). 203,000 artists were still able to make more than 1,000 dollars.
Another thing to keep in mind is that these numbers overlap, e.g., the 1,040 artists who made more than one million are also included in the 52,600 who managed to hit the 10,000-dollar mark. Examining the data separately, the numbers appear as follows:
| Payout | Number of artists |
| --- | --- |
| 10,000 – 50,000 | 36,100 |
| 50,000 – 100,000 | 7,000 |
| 100,000 – 500,000 | 7,330 |
| 500,000 – 1,000,000 | 1,130 |
| More than 1 million | 1,040 |
Only 200,000 professional artists on Spotify?
Considering there are 8 million artists on Spotify, 52,600 obviously look very meager. Spotify wants to counteract this impression by researching the number of "professional artists" on their platform and determining the number to be 200,000. To get there, Spotify has evaluated various data. It's actually rather surprising: Out of the 8 million artists who have released music on Spotify, 5.4 million have uploaded fewer than 10 songs. Out of the artists who have more than 10 tracks, there are 165,000 who have more than 10,000 monthly listeners and thus a solid fanbase. Additionally, Spotify analyzed how many artists publicized a live show on Spotify in 2019, meaning before the pandemic (there were 199,000).
Thus, a quarter of these "professional artists" should have generated more than 10,000 dollars, and 8% of them over 50,000. This calculation of "professional artists," however, gave cause for quite a few questions and criticism. Spotify seems to be taking the easy way out by chewing 7.8 million artists out and labelling them as "non-professionals." That makes it look like it's their own fault that they did not generate significant revenues.
DIY artists on the rise
Finally, however, there are some positive data, as well. Out of the 52,600 artists who generated more than 10,000 dollars, 28% are self-released, meaning they released their music without a label but instead via a distributor like iGroove. 72,700 DIY-artists have more than 10,000 monthly listeners and generated 1.1 billion, which is 15.7% of the total payouts.
Surprisingly, Spotify announced that they paid out more than a billion dollars for publishing rights, which supposedly surpasses the numbers in the CD era. With that, they are clearly taking a stance in the ongoing debate over raising the share of revenues for songwriters. At the moment, 75-80% of these go to labels and distributors, while 20-25% are paid out for the publishing rights.
Greenroom becomes Spotify Live
Additionally, various media outlets reported that Spotify will integrate their Clubhouse-clone "Greenroom" into the regular Spotify app and change its name to Spotify Live. This is set to happen in the second quarter already.