Spotify launches audio app Greenroom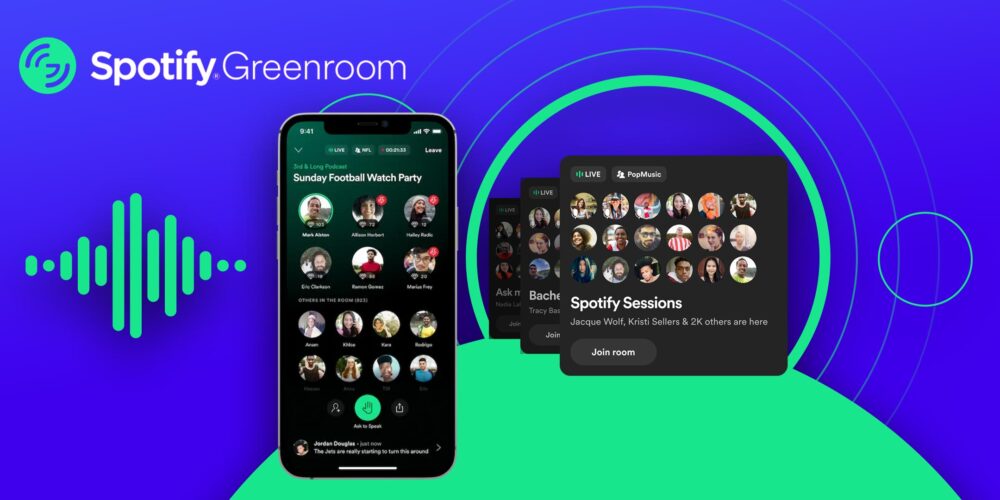 What you'll learn in this post:
What Greenroom is and how to use it
What the differences are to Clubhouse
What the Creator Fund is and why it might be at the expense of musicians
In March it became known that Spotify had purchased Clubhouse competitor Locker Room. One rebrand and name change later, the new social audio app has now been released in 135 markets under the name Greenroom. You can either log in with your Spotify account or register for free.
After registering, you first select your interests. In addition to various music styles, keywords from the areas of sport, gaming, lifestyle, news and more are also available.
Like Clubhouse but not quite
Unlike Clubhouse, Greenroom offers the option to record the sessions. This was to be expected since it creates more podcast content that can then be used on Spotify.
When you create a room, you can choose whether you want to record the conversation. If you select this option, you will receive an MP4 by mail. A combination with the podcast app Anchor, which is also part of Spotify, would be interesting. It allows all songs available on Spotify to be included in a podcast.
Greenroom offers all the benefits known from Clubhouse, such as networking and acquiring knowledge. For musicians, it offers the possibility to get in touch with their fans directly and to organize Q&As or a listening party, for example. And of course, all of this can be used as a podcast.
By the way, Greenroom is available for both iOS and Android.
Spotify launches Creator Fund
While Clubhouse took some time to launch earning opportunities, Greenroom has had them almost from the start, in the form of the Creator Fund, which is set to launch in late summer. With this, they want to reward creators for their content and the community they build. This will primarily reward how the content created is consumed and how many people are listening. The payouts are supposed to be weekly, but how much money is in the find is unknown. You can already register, but for now only if you live in the US.
Investments at the expense of musicians?
The first critical voices are already questioning this fund and Spotify's business model in general. On the one hand, Spotify is always criticized for paying out too little to musicians, and on the other hand, they made a loss in the triple-digit millions in the last fiscal year. So now money is also to be distributed to celebrities, politicians, athletes and other hosts on Greenroom. Unlike Clubhouse, Spotify wants to pay these out of its own pocket.
Hype about Clubhouse already subsided
At the moment, Greenroom is only available as a standalone app and it remains to be seen whether and if so, when and how it will be integrated into Spotify. We will also have to wait and see how Greenroom can establish itself and how much interest social audio apps still create. The hype around Clubhouse has already subsided again; after 9.6 million downloads in February, there were just 900,000 in April.