Pitch your songs to Amazon Music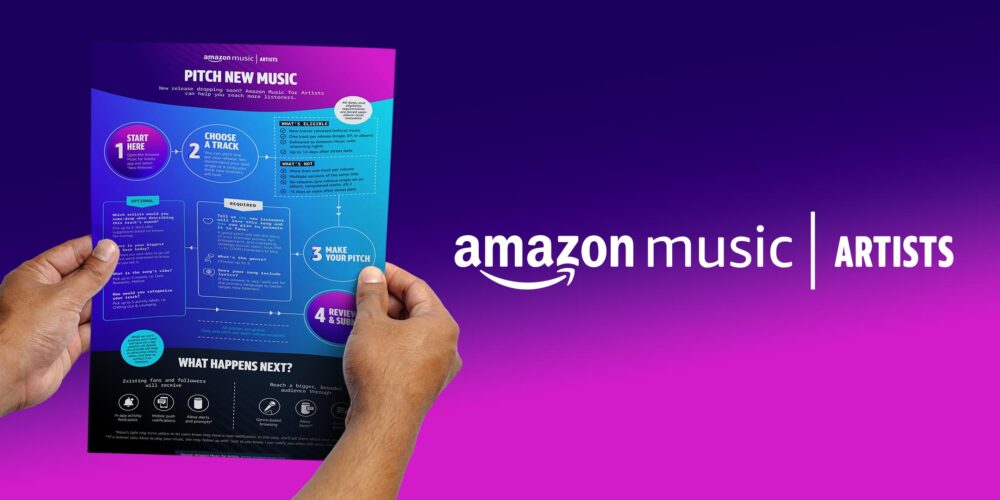 What you'll learn in this post:
How to pitch your songs to Amazon
What guidelines must be followed
What other advantages the New Release Pitch Tool offers
Up until recently, Spotify was the only place where artists, managements, and smaller record labels could pitch their songs directly to the playlist curators. Other streaming providers give this privilege only to the big labels and distributors. Now, Amazon Music has launched the tool "New Release Pitch" with which you can suggest your tracks for their official playlists and stations.
You can do this on Amazon Music for Artists, which is available both on the desktop site as well as the mobile app. These guidelines should be observed when pitching your song:
You can only pitch new, unpublished music (no re-releases)
You can only pitch one track per release, regardless if it's a single, an EP, or an album
The song can only be submitted a maximum of 14 days after the release
This is how the New Release Pitch Tool works
Just like on Spotify, you will need to include a description of the song and a brief overview of the marketing activities you have planned. Additionally, you must specify the genre (up to 3) and language of the song, as well as whether it has lyrics or is an instrumental piece. You also have the option to add the vibe of the track as well as so-called "activity labels" (e.g., "chilling out") if you so desire. Other optional details include the mention of up to three artists who make similar music and the location of your biggest fanbase, although Amazon admits that they obviously have this information already and that they are simply interested in your own assessment here.
More than just playlist placements
By sending Amazon your song along with the metadata, you not only get the chance to be considered for playlists or stations but also help Amazon work out how they should show your music to your listeners.
What this means in practice is posts in the activity feed, push notifications, and Alexa alerts for established fans and followers. However, you can also reach new listeners through searches by genre as well as suggestions from Alexa. That means that even if you don't get selected by the curators, you will still enjoy certain benefits from your pitch and can increase your reach.
So, if you 've never used Amazon Music for Artists before, you have one more reason to start now.at nun einen triftigen Grund mehr.
Amazon Music is also part of iGroove's pitching services, along with Spotify, Apple Music, Deezer, YouTube Music, and Tidal.