Kanye: Your demands have been heard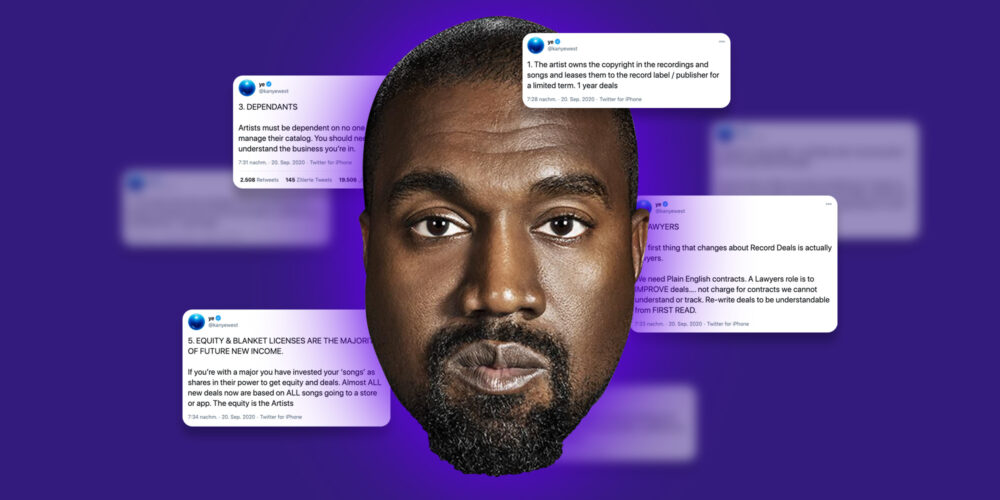 What you'll learn in this post:
What Kanye West criticized about the music industry on Twitter
Why these requirements are already met when working with an independent distributor
Recently Kanye West criticized the mechanisms of the music industry with several tweets. Using iGroove as an example, we will show you that many of these requirements are already met when working with an independent distributor.
With iGroove, you always keep the music rights, and you have the option to switch to another distributor at any time. There is no contractual obligation. You will not only receive 80% but 92% of the revenues.
Limited terms only exist for advance payments. The duration can be chosen by yourself and thanks to our 'best deal guarantee', you can switch immediately in case you find a better deal somewhere else.
Even better: no contracts at all. At iGroove, you only need to accept the terms and conditions and – being musicians ourselves – you will understand them easily (no lawyers needed). All costs are transparent, and you only pay for what you need.
There is no exclusivity. This means at iGroove you can release some of your songs with us, but you can also release others through other distributors. You choose.
iGroove is a Spotify Gold Partner and does not have any side deals with Spotify. Neither do we have any middlemen involved. All revenues that are distributed to us by the DSPs get immediately passed on to the artists.
Thanks to our sales trends and statements you always keep track of your income. You can see how much you earn per song, at which store and in which countries etc. With our app, you can check these figures any time while on the road. Further, you can see your estimated streaming revenues for the next 6, 12 and 14 months.
In your iGroove account, you have everything in one place. From all your releases to statistics, payouts and services. If you took an advance payment, the contracts are stored there as well. All this information can be downloaded at any time.
The difference between a loan versus an advance payment from iGroove is that a loan must always be fully repaid. However, with an advance payment, iGroove takes on the risk that the amount cannot be recouped. The conditions (duration & share iGroove) can be set by yourself and range from 1 to 3 years and 14% to 18%. Further you can select for which releases you want the advance (some backlog releases or a certain number of future releases). Again, you choose. All costs and margins for covering the risk that the advance does not recoup are calculated by iGroove's AI and are completely transparent for you.
Kanye's manager adds: "When you hear the stories of a musician who hasn't paid his or her taxes or has gone broke, it's because it takes so long to get your money. Some creators only get paid once every six months."
With iGroove, you get a monthly credit, and you can pay this money out at any time. The billing transparently lists how much you have received from each store and shows the exact number of streams and downloads.
Learn more about the benefits of iGroove.