How much do I get per stream on Deezer?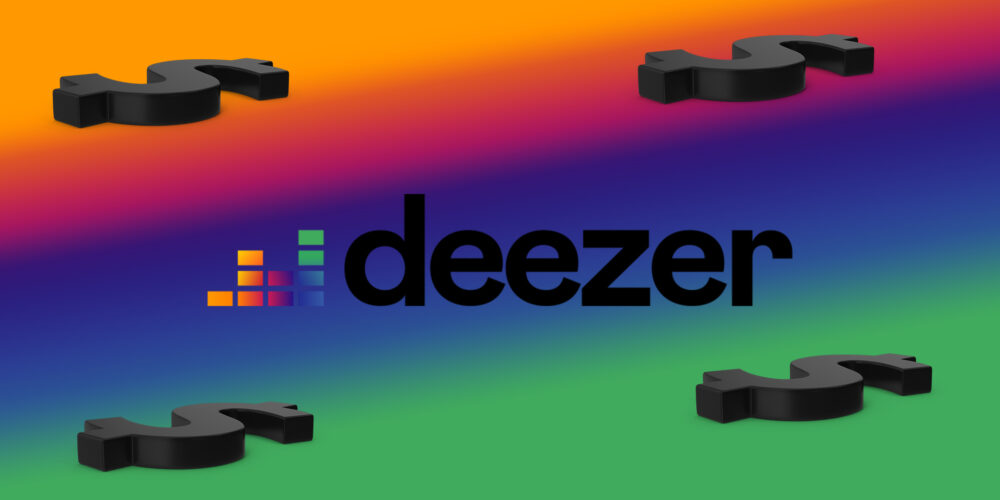 What you'll learn in this post:
For which countries Deezer pays the highest PPS per streams
How much Deezer pays per stream. Broken down to 66 countries
Why Deezer wants to switch to user-centric, though it's not quite as simple
After our recent assessment of Spotify's and Apple Music's numbers, we have now analyzed Deezer's Pay Per Stream (PPS) for the first time. Here too, we aim to show you how much influence the origin of a stream can have on the payout. It is not much of a surprise that Deezer's numbers, too, vary greatly from country to country.
Surprising frontrunner
We were rather taken aback to see which country showed the highest PPS: Bulgaria is on first place by quite a large margin – this despite the fact that it can only be found somewhere in the midrange at Spotify. We are already curious to see whether this will be reaffirmed in our next assessment or whether this is just a single outlier.
What also stands out is that a whopping three Arabic countries, Qatar, UAE, and Saudi Arabia, are among the top 10. The Ivory Coast, meanwhile, represents Africa in the top 15. Apart from these, you'll find some of the usual suspects in the front rows, such as the US, Austria, and the Scandinavian countries. As is the case at Spotify, Turkey is again at the back of the list, as are various Asian, African, and Latin American states.
The English-speaking countries in comparison
In contrast to Spotify and Apple Music, Deezer sees the US rank first among the English-speaking countries. While Australia, Ireland, New Zealand, and the UK are pretty much neck and neck, Canada, as we've also seen before, brings up the rear.
| | |
| --- | --- |
| USA | 10,464.62 |
| Australia | 7,986.27 |
| Ireland | 7,954.48 |
| New Zealand | 7,853.64 |
| United Kingdom | 7,838.33 |
| Canada | 5,555.39 |
PPS twice as high as Spotify's
Assuming you had the same number of streams in each of the 66 countries we assessed, you would receive $4,776 per one million streams. Even though Deezer offers add-supported subscriptions, as well, their PPS is about twice as high as Spotify's and only around 25% lower than Apple Music's. We will compare these three streaming services in more detail in an upcoming post.
Deezer wants user-centric model
In a recently released video, Deezer's CEO emphasizes once again that his company absolutely wants to make a switch to the user-centric distribution model. However, he also points out that this will not be possible without the labels, distributors, artists, and fans. He is therefore asking for people's support for this model that Deezer views to be fairer and more transparent. It will definitely be interesting to see what impact a system change would have on the PPS.
The PPS of 66 countries in comparison
Here you can find the complete list with all 66 evaluated countries. For each country you can see the Pay Per Stream (PPS) as well as the extrapolation of how much you get for one million streams from the respective country.
All figures in USD / Status June 2021
| Country | PPS | Per Million |
| --- | --- | --- |
| Bulgaria | 0.014876675 | 14,876.68 |
| Denmark | 0.010958149 | 10,958.15 |
| Qatar | 0.010645948 | 10,645.95 |
| USA | 0.010464616 | 10,464.62 |
| United Arab Emirates | 0.010176228 | 10,176.23 |
| Norway | 0.010013431 | 10,013.43 |
| Saudi Arabia | 0.009983557 | 9,983.56 |
| Finland | 0.0095761 | 9,576.10 |
| Austria | 0.008104174 | 8,104.17 |
| Australia | 0.007986267 | 7,986.27 |
| Ireland | 0.007954484 | 7,954.48 |
| New Zealand | 0.00785364 | 7,853.64 |
| United Kingdom | 0.007838331 | 7,838.33 |
| Côte d'Ivoire | 0.007281317 | 7,281.32 |
| Switzerland | 0.007116999 | 7,117.00 |
| Luxembourg | 0.007033156 | 7,033.16 |
| Netherlands | 0.007019472 | 7,019.47 |
| Sweden | 0.006978378 | 6,978.38 |
| Belgium | 0.006661308 | 6,661.31 |
| Hungary | 0.006166098 | 6,166.10 |
| Montenegro | 0.005957459 | 5,957.46 |
| Germany | 0.005766485 | 5,766.49 |
| France | 0.005661923 | 5,661.92 |
| Canada | 0.005555388 | 5,555.39 |
| Greece | 0.005166136 | 5,166.14 |
| Thailand | 0.004911318 | 4,911.32 |
| Egypt | 0.004545196 | 4,545.20 |
| Mauritius | 0.004335617 | 4,335.62 |
| Kazakhstan | 0.004321106 | 4,321.11 |
| Czech Republic | 0.004263881 | 4,263.88 |
| Romania | 0.004136483 | 4,136.48 |
| Serbia and Montenegro | 0.004092707 | 4,092.71 |
| Slovenia | 0.003898852 | 3,898.85 |
| Spain | 0.003795095 | 3,795.09 |
| Slovakia | 0.003770362 | 3,770.36 |
| Paraguay | 0.003689322 | 3,689.32 |
| Croatia | 0.003673786 | 3,673.79 |
| Portugal | 0.003634324 | 3,634.32 |
| Poland | 0.003632625 | 3,632.63 |
| Guatemala | 0.003618873 | 3,618.87 |
| South Africa | 0.003423168 | 3,423.17 |
| Ukraine | 0.003332503 | 3,332.50 |
| Chile | 0.003038735 | 3,038.73 |
| Ecuador | 0.002985889 | 2,985.89 |
| Colombia | 0.002813892 | 2,813.89 |
| Kenya | 0.002677081 | 2,677.08 |
| Italy | 0.00233681 | 2,336.81 |
| Mexico | 0.002332801 | 2,332.80 |
| Bolivia | 0.002260412 | 2,260.41 |
| Macedonia | 0.002139115 | 2,139.11 |
| Albania | 0.001978478 | 1,978.48 |
| Costa Rica | 0.001891453 | 1,891.45 |
| Russia | 0.001880372 | 1,880.37 |
| Peru | 0.001875191 | 1,875.19 |
| Morocco | 0.001799536 | 1,799.54 |
| Nigeria | 0.001709087 | 1,709.09 |
| Bosnia and Herzegovina | 0.001652584 | 1,652.58 |
| Argentina | 0.001582332 | 1,582.33 |
| Israel | 0.001507971 | 1,507.97 |
| Philippines | 0.001472989 | 1,472.99 |
| Jordan | 0.00146525 | 1,465.25 |
| El Salvador | 0.001332134 | 1,332.13 |
| Azerbaijan | 0.001229646 | 1,229.65 |
| Brazil | 0.001197467 | 1,197.47 |
| Algeria | 0.001169997 | 1,170.00 |
| Turkey | 0.001036293 | 1,036.29 |