Exclusive insight into the backend – Discover iGroove with a demo account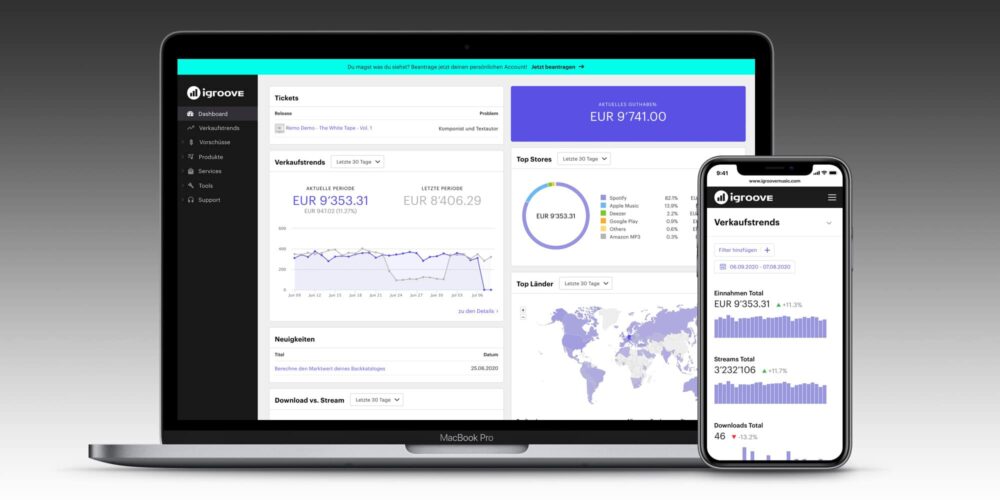 What you'll learn in this post:
Discover the easiest and most transparent backend for musicians with a demo account
Our tour introduces you to the different functions
We regularly receive feedback from our customers that iGroove has the clearest, most transparent and visually appealing backend on the market. This makes us especially proud, since we develop our software and all tools ourselves. With weekly updates we also make sure that the portal is constantly evolving and that you always benefit from the latest technologies.
Unfortunately, so far only those who are already iGroove customers have been able to see this for themselves. In order to give everyone the chance to get an idea before applying to iGroove, we have set up a demo account to try out the iGroove backend.
Simply use the following link to discover the advantages of iGroove.
Tour
To familiarize you with the features and capabilities of the iGroove backend, we will briefly introduce you to the most important functions on this tour.
Dashboard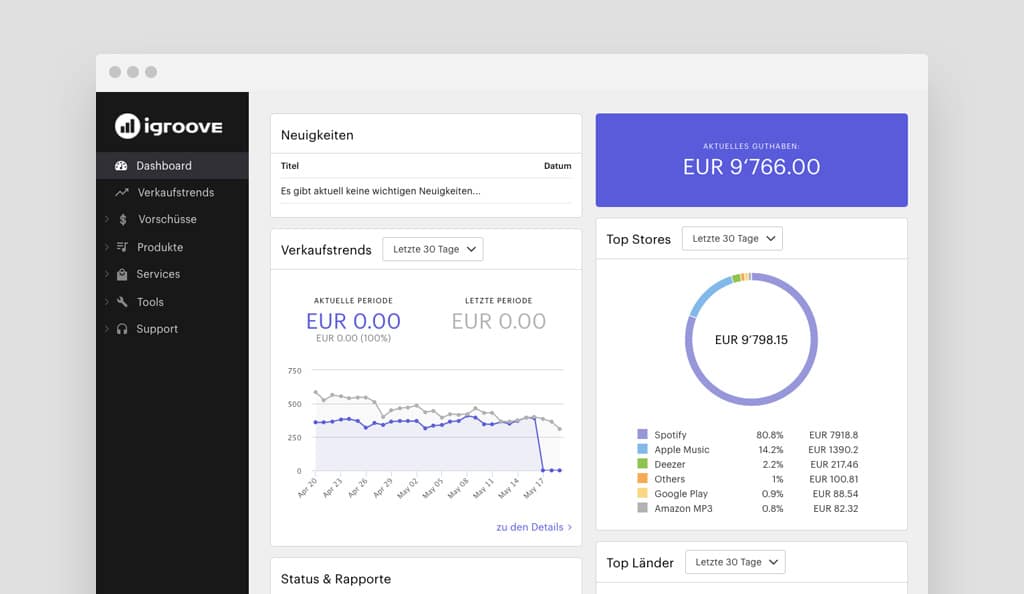 Whenever you log in to iGroove, the first thing you see is the dashboard. Here you get a good overview of your trends and sales, top releases, pending releases and other open tasks. You can define what information is displayed on the dashboard and arrange it according to your own preferences.
Trends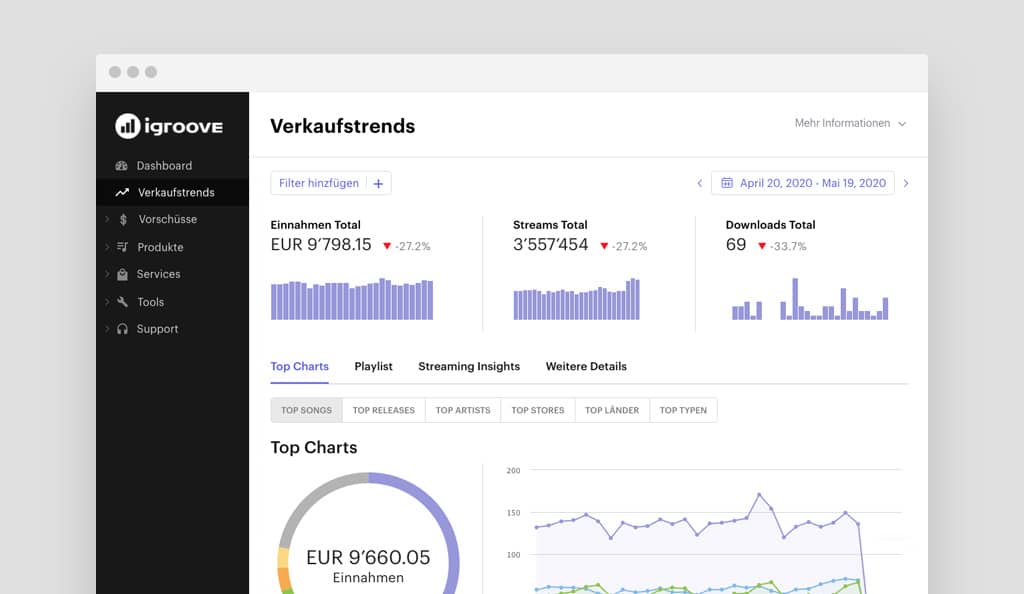 The sales trends show you today what you will earn tomorrow. With a delay of about two days your streams and downloads will be shown here. To analyse your data, you can sort them by release, song, shop, country, artist, period or type of revenue. These filters can be combined as you like. Pie charts and time history views show you how your numbers have changed over time. You can also see which playlists your songs are in.
Balance
At some point, your streams and downloads are no longer just trends, but become your credit. In this section you'll see all movements on your iGroove account, get all the details about the credits and of course you can cash out your balance at any time (well, not on the demo account unfortunately). You can also download all details of the credited streams and downloads as CSV.
Advances
iGroove not only provides advance payments for future releases, but also for the back catalogue. In this section you can find all advance contracts and you can also see how much of the advance has already been recouped – listed in detail by release.
Products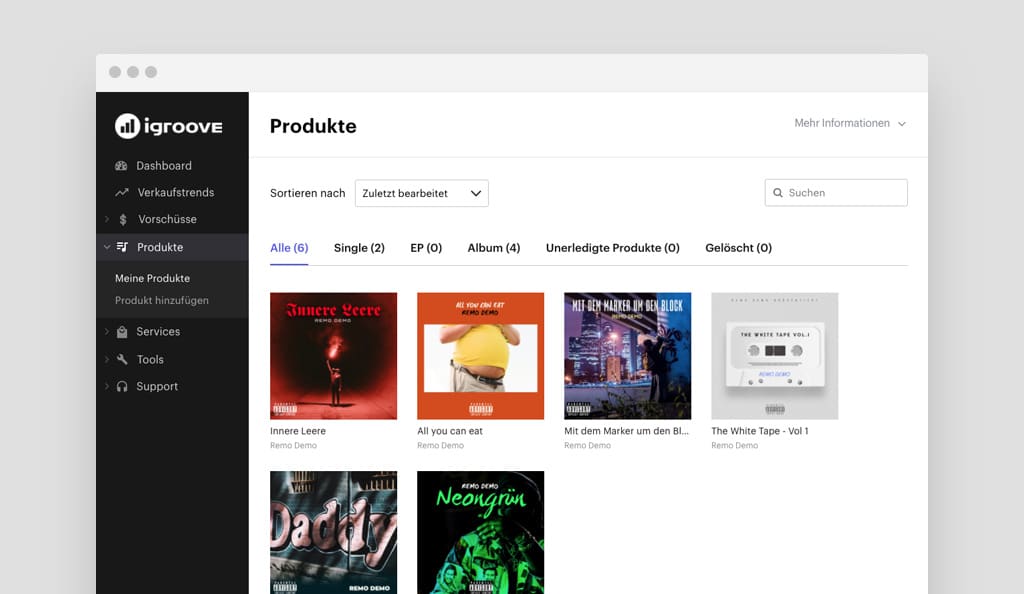 Here you can see all the products you have registered and you can see at a glance to which shops and when they were delivered. Pre-sales and pre-saves are also listed here. Of course you can also enter a new release in just a few steps.
Services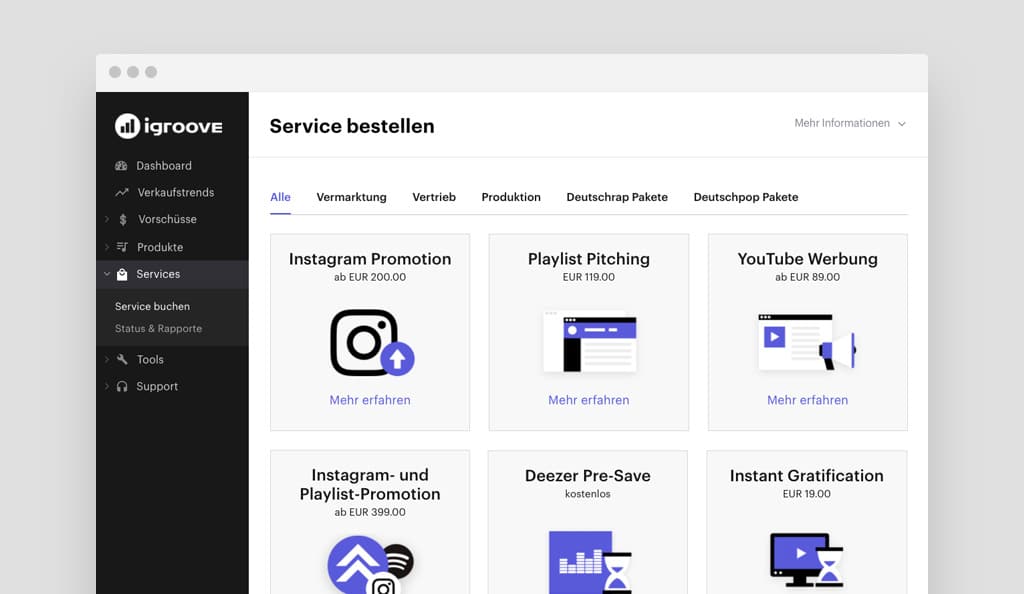 In this section you can not only book all our services, from Instagram- and streaming promotion, playlist pitching and YouTube advertising to various promotion packages. You also get detailed status reports and evaluations of the booked services.
Tools
iGroove offers you a variety of self-developed tools for free. Whether it's the handy link site to promote your release, the PR page or direct access to Spotify for Artists, you'll find everything at a glance.
Profile
In addition to the usual customizations like profile information or language, you can also see all the invoices you have received from iGroove.
Do you have any questions about iGroove?
At least as often as for our backend we are praised for our support. If you have any questions, please contact us at [email protected] or write us in the chat. Did this tour convince you? Then apply for an account with iGroove here.