Catalog Migration: Switch to a New Distributor with a Few Simple Steps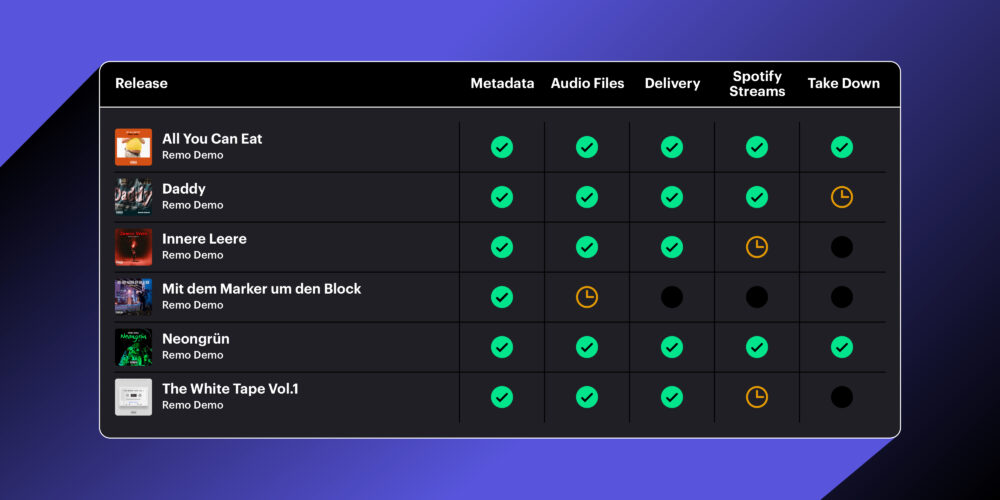 What you'll learn in this post:
How to migrate a catalog from one distribution to another
What you need to pay attention to and how long it takes approximately
How iGroove minimizes manual effort and sources of error
We know the feeling all too well from insurance companies or mobile phone subscriptions: You realize that a different provider has a better offer in store and you could save a lot of money, but it's just too much work, so you end up staying with your current provider. A lot of musicians and record labels go through the same experience when considering a switch from one distributor or record label to another. Many shy away from the manual effort and are unsure whether the streaming numbers and playlist placements would really be retained after a switch.
In this article, we will show you what to keep in mind when it comes to a catalog migration and introduce the elegant solution iGroove has recently developed.
Metadata
We have already pointed out on multiple occasions how important metadata are in the music industry and why they represent an artist's calling card. Everything begins with metadata – and a catalog migration is no exception. They ensure that your releases are shown on the DSPs exactly as they were before the distributor change and that your fans don't even notice the migration.
So, first, you need to compile all the metadata for the releases in your catalog. You can find these in your distributor's system (with some luck, they might even have an export feature) or you can get them from your record label.
After exporting the metadata from your old distributor, you then need to manually register the metadata for each release with your new distributor.
Metadata includes:
Release and song names
Song length
Artist names/information about features, etc.
Composers, lyricists, etc.
EAN
ISCRs
In addition, the WAV-files for each of your releases, of course, need to be uploaded again. Furthermore, in order to ensure that the releases end up on the right profiles, the Spotify and Apple Music artist IDs must be added, as well (provided your distributer offers this option). Only when all this information is stored on the database can your distributor transfer the releases to the different stores.
Delivery and takedown
Your new distributor might get in touch with the DSPs in advance to announce the migration of your catalog. Once you have gathered all your data, the distributor will forward them to the stores. About two or three days after that, they will check if all the releases were successfully and properly delivered. On Spotify, they also need to check whether the streaming numbers were transferred correctly. If this is not the case, your new distributor will contact Spotify and find out why.
Only when everything is checked and found to be in order, the takedown call is made to the old distributor. This means that for a short period of time, your releases will be show up twice on the platforms. But this only lasts about 2-3 days, provided that your old distributor immediately initiates the takedown. To make sure that your releases don't appear twice for too long, it would be wise to get in touch with the previous distributor ahead of time to get information on the process and to announce the upcoming takedown.
If everything goes smoothly, a catalog migration should take about a week. But since a lot of different parties are involved (artists, new and old distributor, various stores), delays do occur sometimes.
iGroove's solution
More and more artists are switching over to iGroove with their catalogs, and to keep the potential error sources, delays, and manual effort to a minimum for us, we have developed the catalog-migration engine. It is based on the following components:
Release importer
Instead having to laboriously gather the metadata one by one, the release importer will take over this task by automatically searching for all the important data in the different stores and directly importing them into your account. To do that, we only need you to submit a list with the EAN codes for your releases.
Once the release importer has compiled everything, all you need to do is upload the audio files and your releases will all be registered properly.
If your previous distributor is a major one, we also offer the option of directly importing all the data that was exported from there, including the WAV-files.
Metadata verification
If the data are delivered directly, our system will independently check whether all the listed metadata (e.g., composers, lyricists, info about explicit content, etc.) match the current data in the music stores. If it detects any discrepancies, a ticket is automatically created and will be handled by our team. If need be, they will confer with the client to get the differences corrected as quickly as possible.
The system also checks if the uploaded audio files have the same length as the songs currently available at the stores. The process is important for the retention of the streaming numbers, since this calls for identical audio files. If the system finds anything remiss here, we will ask the client if there might have been a mistake in the upload (e.g., two tracks got mixed up).
Compiling of artist IDs
Artist IDs guarantee that the releases (including future ones) end up on the correct artist profiles on Spotify and Apple Music. Since the process of searching and compiling all the IDs in a catalog can take up a lot of time, our system will take care of the job for our clients.
Transfer to music stores
Once all the metadata is compiled correctly and the audio files are uploaded, our system will transfer the releases to the selected music stores at hyperspeed and automatically check if they have arrived. To allow our musicians to always stay up-to-date, we have created a dashboard where you can follow the progress in real time. If an error occurs in the transfer (e. g., a connection problem), our system will automatically detect this, and the process will be restarted an hour later.
Review of streaming numbers
Before the transfer, our system saves the current Spotify streaming numbers for each song. Once the releases are transferred to Spotify, our system matches the numbers and verifies that they were carried over correctly. Artists can check the progress of this review in real time, as well, and see which releases have had their streaming numbers fully transferred. Thus, it is guaranteed that the streaming numbers carry over and the playlists placements are retained, as well.
Takedown verification
The dashboard shows the artist when a release is ready and the takedown can be requested from the old distributor. In addition, the system monitors whether this request was carried out, and most importantly, whether everything was really taken down. Sometimes, the old distributor might just take down 20 out of 23 songs, for instance. The system will detect this, as well. Thus, our users can always keep track of what releases can be taken down, which ones have already been taken down, and which ones are still pending.
iGroove Extra
As mentioned before, we save the Spotify streaming numbers for each individual song. This allows the artists to request the takedown of a release from their old distributor directly upon its transfer – without having to wait for the streaming numbers to be transferred over, as well. In case they are not automatically transferred, we can send Spotify a report with the saved data so that the numbers can swiftly be corrected. Thus, the duration of time in which the releases appear twice is minimized.
Conclusion
A catalog migration might not be a walk in the park, but if you keep a few points in mind, it doesn't have to be a rock climb either. If you are convinced that you will get better terms and conditions from a different distributor, then the one-time manual effort is well worth it. If you decide to switch over to iGroove, most of the manual effort will be taken off your hands, many potential sources of error will be eliminated, and you will always remain up-to-date on the current status of your migration.