App Update – An overview of the new functions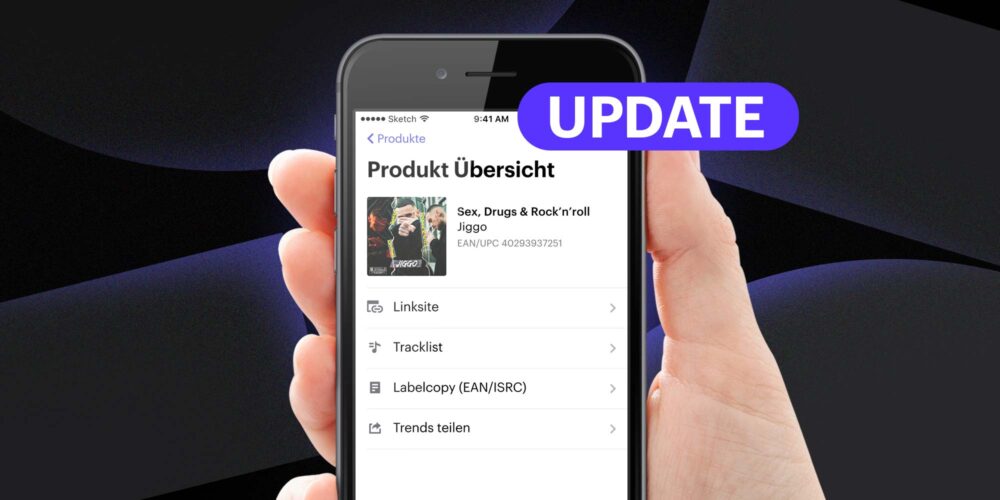 What you'll learn in this post:
What the new features of the iGroove app are
How to do everything from advances to your link site to support requests conveniently on the go
What comes next
Earlier this year, we launched the iGroove app so you have the most important features of iGroove at your fingertips. You can find a description of the basic functions of the app here.
Now the first major update is online and thanks to additional functions it is now even easier to handle your business on the road. In this blog we'll introduce you to the new features.
Advance contracts
You received an advance payment from iGroove? Congratulations! Now you can find all important information directly in the app. You can see which releases are part of the deal, which refunds have already been made and all other details about the advance. You can also download the advance contract as PDF.
Products
We have made various optimizations in the product section:
Now it is possible to download or send the label copy with all information about the release. This is especially useful for the registration with your collecting society.
You can now manage the link site easily via the app. With just a few clicks you can add or remove stores, customize links and even add your social media channels. Add all important links of the stores and your social media channels and promote your release.
Share the sales trends of your releases with your partners like band mates, managers or producers. You decide for which releases the partners get access.
More
New is the tab "More", which replaces the previous menu item "Profile". Beside the possibility to edit your profile, you'll find the following:
Support Chat: You can now contact our support team directly via the app. So you are one step closer to the source and we can support you even better. Once we send you an answer to your question, you'll receive a notification on your cell phone even if you haven't opened the iGroove app.
Frequently Asked Questions (FAQ): You want to answer your own question right away? Here you will find the answers to the most common questions.
What's next?
We are constantly working on the next update which will allow you to split the revenue of your releases among all participants. Additionally we will integrate the service reports – the evaluation of your booked services – directly into the app.
Do you have questions about the iGroove app?
Then contact our support at [email protected] or write us in the chat.