The most accurate sales trends in the music industry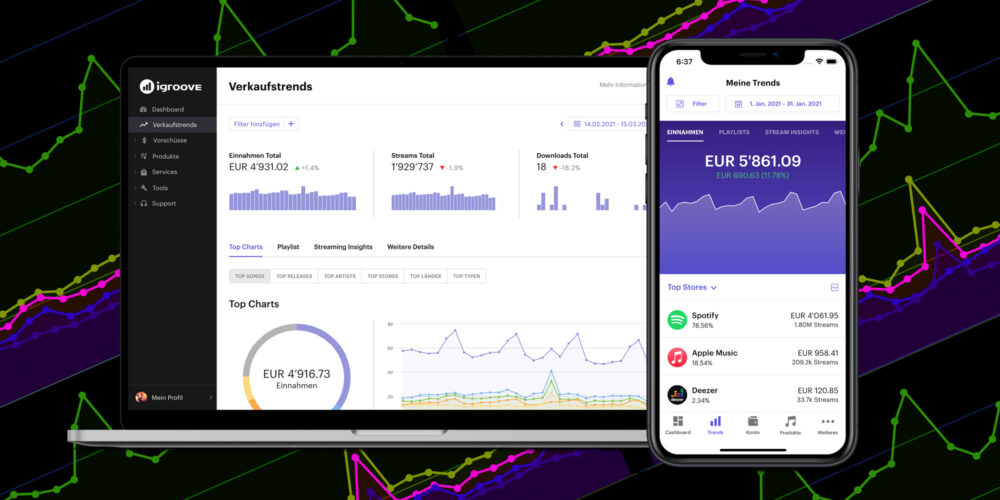 What you'll learn in this post:
Thanks to our artificial intelligence Muse, iGroove's trend data is more accurate than ever before
So you already know much more precisely what you will receive in the future
On the iGroove app you can see how much your next three payouts will be plus the forecasts for the next 6,12 and 24 months
Sales trends give you a preview of the amount being credited to account in your future. iGroove has updated this feature and can now offer the most accurate trend data to tell you well in advance exactly how much money you will receive and when it will be at your disposal.
Many distributors provide artists with so-called sales trends. These trends give an overview on streams and sales before accounts are balanced with the streaming services. They offer artists a point of reference on where they stand approximately. The reason why nonetheless the actual payout might deviate from these numbers is that while streaming services disclose to distributors the number of streams, the type of subscription, and where the streams come from, they do not specify the monetary amount.
Essentially, all distributors (including iGroove) calculate the amount of money garnered from a stream based on previous numbers. But this didn't cut it for us – we wanted to offer our artists the most accurate trends in the game. Thanks to our Artificial Intelligence "Muse," we can already predict future revenues with precision, so we decided to use it for the trends, as well. Thus, we can now tell exactly how much Spotify pays, for instance, for a stream from Brazil that was generated by a family subscription.
What has changed for you?
Precision has improved greatly once again, so you can know much more accurately today what you will earn in the future. When it comes to the most important services like Spotify, Apple Music, or Deezer, the precision is more than 98%. Unfortunately, some other services like Amazon, for example, do not yet provide trend data about their streams. But as soon as they are available, we will include them, as well. Our goal is to tell you in advance exactly how much money you will receive and when it will be at your disposal.
Preview & Forecasts
The new iGroove app also shows you how high your future payouts will be. That way you know at all times how much will be credited to your bank account in the coming months and can plan better for the future. The app also gives you a projection of your revenues in the next 6, 12, and even 24 months.
If you still have questions about the sales trends, the app or the forecasts of your future revenues, feel free to contact our support.
All further information can be found on www.igroovemusic.com.