Spotify integrates Shopify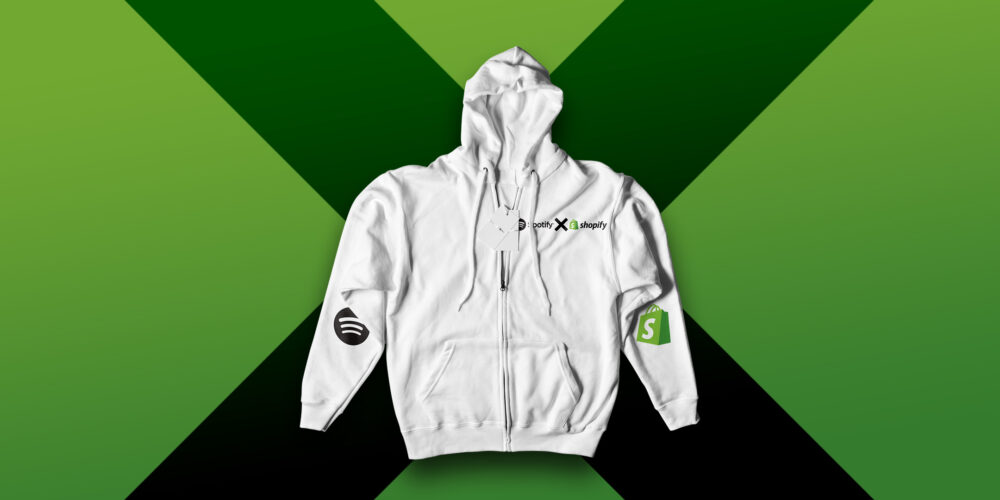 What you'll learn in this post:
Spotify cooperates with e-commerce company Shopify
This will enable more artists to offer their merchandise directly through Spotify.
How to integrate your Shopify store with Spotify
Spotify has long planned to give musicians the option of selling merch through their platform, but so far, it has been a rather bumpy road. Towards the end of 2013, they started a collaboration with Topspin, but when Topspin was bought out by Beats Music which was then acquired by Apple, Spotify switched over to BandPage. However, here, too, a competitor interfered: YouTube took over BandPage, and thus, Spotify had to switch again, namely to their current partner Merchbar.
Merchbar, however, poses some obstacles for many artists, especially those who operate independently, which might explain why out of the million artists on Spotify, only 370,000 offer merch or tickets there. This is all to change thanks to the partnership with the e-commerce company Shopify – a collaboration waiting to happen based on the name alone, if nothing else. From now on, musicians can show three items from their Shopify store on their Spotify profile.
This is how it works
To offer merchandise from Shopify, you need admin access to Spotify for Artists, as well as a Shopify store. You can then import up to 250 items to your Spotify for Artists, out of which, as we mentioned before, you can pick three to show on your Spotify profile. So, you always have the option to customize the products that are displayed.
You will also continue to be able to offer items from Merchbar on Spotify. For that, however, you will need to disconnect the Shopify integration.
Only in beta
The integration of Shopify is still in beta, which means that while musicians worldwide can integrate their Shopify store, the products will only be shown to consumers in the USA, UK, Australia, New Zealand, and Canada. At the moment, Spotify is not charging any fees, but this will change in the future. But when that will happen and how much the cost will be is not yet known.
Try free of charge
In times where concerts are still a scarce commodity, it is certainly well worth it to set up a digital merch table in addition to a physical one. For a time, this comes at no additional cost either, since artists who have not yet used Shopify can try it for free for 90 days.