Apple Music for Artists: Analyze your data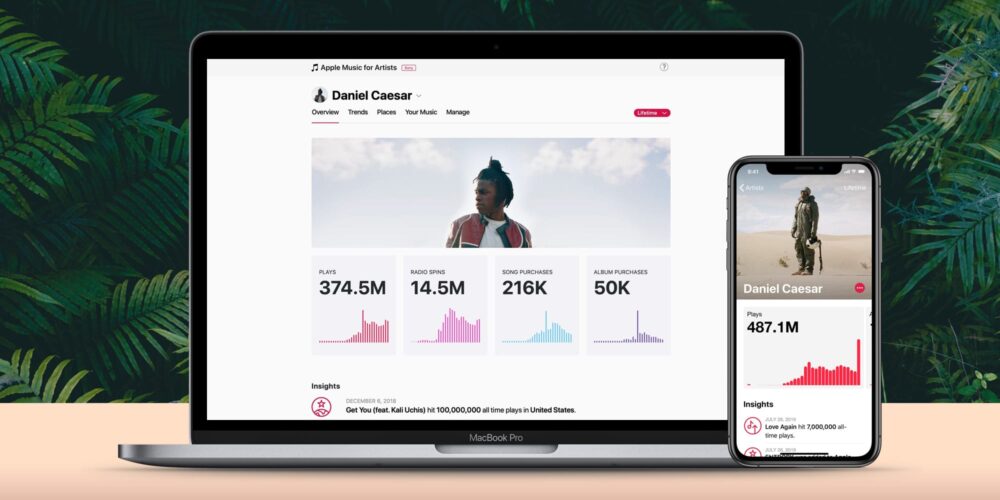 What you'll learn in this post:
How to get access to Apple Music for Artists
What data you can access
What its advantages are for musicians
Pretty sure you already use Spotify for Artists to analyze how your songs perform, where they are heard and by whom. Apple has also been offering a BETA version of a similar tool for some selected artists for some time. Now they have officially launched Apple Music for Artists for all musicians. It is available as desktop version as well as app (but only for iOS). The available data goes back to 2015, the year in which Apple Music was launched.
Register for Apple Music for Artists
In order to gain insight into your data, you must first register for it and be assigned to your artist profile. This is of course free of charge.
Go to https://artists.apple.com/ and log in with your Apple ID and password.
Now select the artist profile you would like to have access to.
Afterwards you have to fill in some details (contact of sales, label, management, social media profile) and your request is out.
Once Apple has granted access, you're ready to go.
The advantages of Apple Music for Artists
You can easily analyze the streams of your songs/albums as well as sales via iTunes. You can also see how many listeners have been reached. The data is updated daily.
Of course you can go much deeper. For over 100 countries you can view separate statistics for each of your songs / albums. You want to know how often your song was streamed in Nairobi? You can do that too. Apple also wants to help artists plan where it's worthwhile to stop touring or even which songs you should play there.
In addition to the origin, there is also information on the age and gender of your listeners. However, there are certain limits due to the privacy. It's not possible to apply two filters at the same time. For example, you cannot filter how many 18-25 year olds in Hamburg have listened to your songs.
You want to know where your streams come from? Apple provides this information as well. Were your listeners directly on your profile, do they come from algorithmic radio or do the streams come from a playlist? If so, on which position in the playlist does your song rank.
Since Apple bought Shazam last year, this data can also be found. So you can see how often someone searched for your song via Shazam and where this was.
In addition to audio data, the views of clips uploaded to Apple Music are also listed.
What Apple clearly wants to stand out from other providers are the notifications. These notifications appear when there have been significant changes to your data. They can be comparisons to the previous week's streams, milestones such as the first million plays on a song, or when your song is added to a major playlist. Also of interest are comparisons such as how your new single performed compared to an older song in the first week.
Conveniently, Apple Music for Artists also lets you customise your profile picture.
It is also possible to grant other parties access to the data. The person who requests access is automatically the administrator. This person can then give access to other people, either as "Administrator" with all rights, as "Analytics" so that the data can be viewed or simply as "Profile Editor" so that they can upload artist pictures. So you can easily invite your band members, managers or label staff.
What Apple doesn't provide is the information how much you earn on your streams / downloads. However, iGroove customers can view this information in their account at any time.
Do you have any questions about Apple Music for Artists?
Then contact our support at [email protected] or write us in the chat.