People listen to new music less and less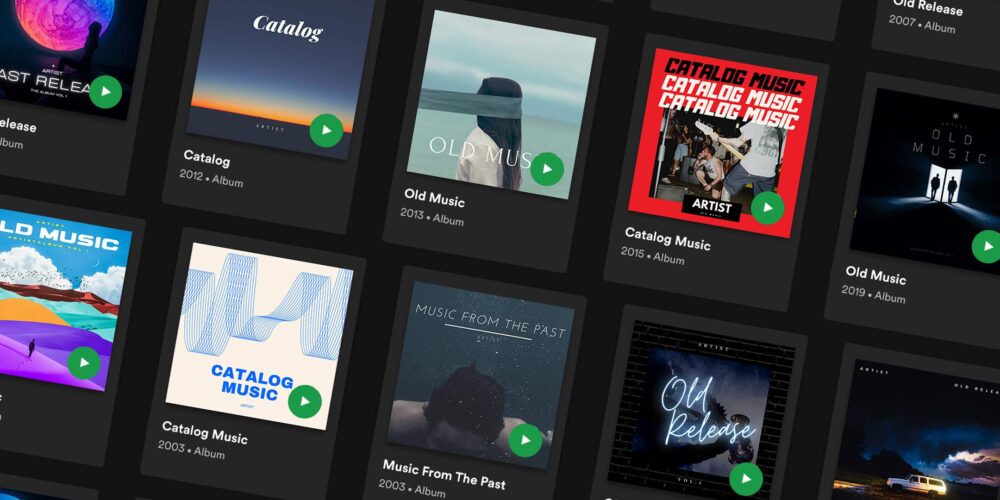 What you'll learn in this post:
In the second half of 2021, the share of catalog releases reached 82.1%
The share of new releases also fell in absolute numbers
Why this might be related to the age of consumers
Last spring, we already reported that catalog releases are becoming increasingly important and that in the U.S., two thirds of songs that users listen to already fall into the category of catalog music. The newest analyses, however, show that this number has taken yet another striking leap: now, a whopping 82.1% of songs people listen to are classified as catalog releases.
The data collected by MRC reveal an increase to the aforementioned 82.1% in the second half of the year. Here, both sales and streams are taken into account. In order for a release to be placed in the catalog category, it must be 18 months or older at the time of the sale or stream.
Looking at the entire 2021, the share of catalog releases amounted to 69,8% (MRC originally reported 74.5%, but they revised the figure downward). In 2020, that number was only as high as 66.4%.
The share of new releases saw a drop not only percentage-wise from 33.6% to 25.5% but also in absolute numbers. Even though new blockbuster releases came out, especially in the second half of 2021, an increased number of listeners reverted to older releases. What the analysis doesn't show is whether the majority of these played songs barely crossed the 18-month mark or whether the increase can really be attributed to tracks that are multiple years or even decades old.
More and more older streamers?
This, of course, begs the question: Why did U.S. consumption of older releases increase so drastically in the second half of the year? One theory would be that more and more older listeners now use streaming and correspondingly, listen to music from previous decades. In the U.S., 89% of 56–74-year-olds already use streaming, which is an incredibly high percentage compared to other countries. In Germany and France, for instance, it is only 37%, in Italy 40%, while the U.K. reaches 41%.
Streaming users per age group
Country
Gen Z
(born 1998–2008)
Millennials
(born 1982–97)
Gen X
(born 1966–81)
Boomers
(born 1947–65)
Argentina
87%
89%
77%
58%
Brazil
87%
89%
73%
63%
Chile
91%
92%
78%
72%
Columbia
84%
88%
76%
69%
France
84%
68%
53%
37%
Germany
83%
78%
59%
37%
Italy
77%
76%
59%
40%
Japan
89%
70%
51%
34%
Mexico
83%
87%
81%
75%
Spain
82%
78%
74%
57%
UK
77%
79%
67%
41%
US
99%
98%
96%
89%
Note: Argentina, Brasil, Chile, Columbia, and Mexico: Part of the population over 13 years of age with an internet connection that uses streaming.
Germany, France, Italy, Japan, Spain, UK, and USA: Part of the total population over 13 years of age that uses streaming.
Assuming the theory is correct, most markets should not show as high of a share in catalog releases as the U.S. However, we do not have any concrete numbers for that.
Yet what we have mentioned in our previous post certainly holds true: instead of focusing only on your newest tracks, you should definitely make your older releases available on streaming platforms, as well, and regularly remind listeners of their existence.
Vinyl and CD sales on the rise
MRC Data's report additionally shows that vinyl sales in the U.S. has increased by 51.4% compared to the previous year. 41.7 million copies were sold in total. Vinyl thus beats CDs once again, even though sales have only gone up for the first time since 2004 and currently add up to 40.59 million copies.