7 tips for your music promotion on Instagram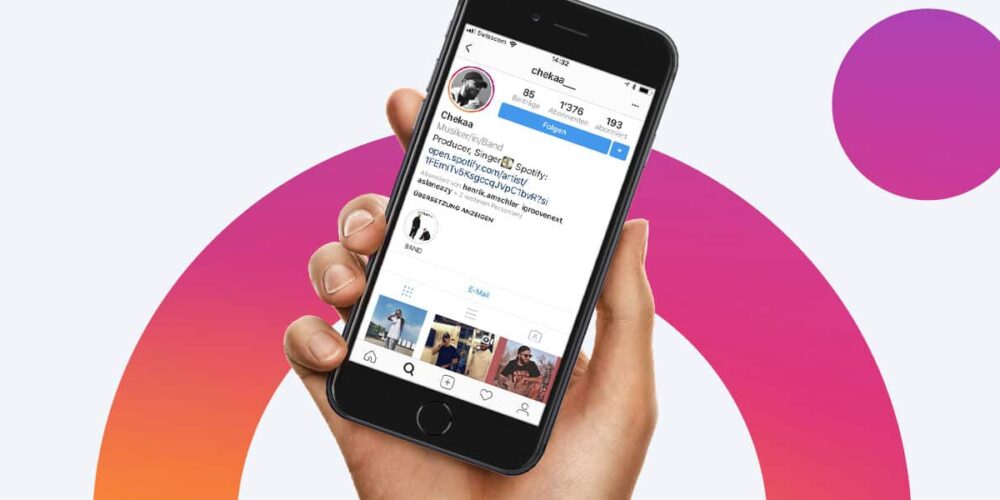 What you'll learn in this post:
How to use links properly on Instagram
How to borrow good ideas from the competition
Why you should use analytics tools
Whether you like it or not, social media are part of the everyday life of musicians today. Probably the most important platform at the moment is one that had the reputation of not being particularly relevant to musicians for a long time: Instagram.
Instagram: Only for narcissists?
For many, Insta is no more than a place for self-promotion and trivial videos.
That may even be true, but then it is simply a reflection of our time. But the fact is, Instagram has very active users, is growing constantly and fast and is especially popular with younger users who are turning their backs on Facebook more and more.
This has to be accepted and you have to try to use Insta for your purposes and not just as a social media tool, but as a marketing instrument.
Instagram for musicians: One tool among many
Instagram is ultimately a tool for musicians to build a personal and emotional relationship with their fans by letting them participate in (artist) life through photos and videos.
Even though Instagram is very simple and limited in its functions, there are still many things to consider and optimize.
How to use Instagram properly as a musician
We've put together some tips to help you use Instagram more effectively and expand your fanbase…
Set links in Instagram correctly
Instagram helps musicians to tie the fanbase and also to gain new listeners. But of course Insta is also supposed to help to move sales and streams upwards. But especially here Instagram does not make it easy for musicians, because the use of links is enormously limited.
Where can you even use links?
In the Bio exactly one link can be inserted.
You can also add URLs to posts, but then they are not linked.
By means of buying ads, which costs money even though Instagram is basically even cheaper than the parent company Facebook or Adwords.
It is therefore important to always adapt the link in the Bio to the current events. Is the new album released? Then insert the Link Site! Did the new video go online? Then post the YouTube link!
Of course you can also insert URLs in the posts, but probably only few people will take the trouble to copy the URL and paste it in a new window.
We've done a lot of research, but we still found some ways for musicians to use and promote their music on Instagram Links.
Setting Spotify Links in Instagram Stories
Since May 2018 it is possible to provide Instagram Stories with a Spotify link. For this you need the Instragram app and the one from Spotify. There you can search for the song you want to share. Then you choose "Share" and then "Instagram Stories". Now you can add lyrics, emojis or filters. Finally you choose "Your Story" and the story appears including a "Play on Spotify" link.
A very smart way to work around the link problem is to post the logos of the shops as a story and finally mark them as highlights so that they appear directly below the bio. You can find out how to put stories as highlights under the bio here.
But now comes the problem: At the moment it is not possible for everyone to add links to his stories. Either you have to have a verified account or you have to have a large number of followers (estimated 10,000, but Instagram does not name exact numbers). Currently, however, Instagram only verifies accounts of persons or companies (indicated by the blue check mark next to their name) that are at high risk of being copied. However, it certainly can't hurt to ask Instagram support if you can verify your account.
If you have managed to verify your account, the disadvantage remains that the "Learn more" button is used very discreetly and probably overlooked by many. So here a hint to the link can't hurt.
Another option is the link tool developed by Metricool: https://metricool.com/instagram-links/
Learn from the best: Look at other artists on Instagram
It is always worth learning from other artists.
So check out the accounts of your favorite bands and find out how they keep their fans engaged.
What content do they post, what hashtags are used and what special features do they use? It's the same as with music: copying is forbidden, but inspiring is always desired.
Using hashtags on Instagram as musicians
Hashtags are much more important on Instagram than on Facebook and are not only used as a conversation method. Instagram users regularly use hashtags to find new people to follow. Instagram's search function is also based on the hashtags that are used most often. So you should give some thought to the hashtags you use.
As a general rule, you should not set too many hashtags (up to 30 are possible per post), but at least two per post. To get as many new followers as possible using hashtags, they should be relevant and up-to-date.
Here you can find out which hashtags are trendy at the moment. To find out which of your used hashtags worked well, there are various analysis tools, but more about that in the next point.
[igroove-join-banner]
Use analysis tools for Instagram
If you invest a lot of time in your social media platforms, you want to know which of the measures you have taken are successful and what you can avoid. Various analysis tools help to further optimize the appearance on social media.
With these tools you can find out which posts are particularly well received, which hashtags work or where the fans have interacted particularly well. Of course you can also find out a lot about your followers and there are also valuable hints how to increase the number of followers.
Further, many of these tools help you to find out exactly when it is best to post something. Both the day and the time of day can have a big impact on how many of your fans actually notice the post.
In addition, there is the possibility of scheduling. Especially if you have a clear plan, but do not have the possibility to go online at any time, such a tool can make life easier.
List of recommended analysis tools on Instagram
Some examples of such analysis tools are:
https://pro.iconosquare.com/
https://hootsuite.com
https://sproutsocial.com/
https://squarelovin.com
Not enough? Here are some more links.
Of course, most of these tools are not free, but in most cases you can test them for free before you pay anything.
Make a gift to your fans on Instagram
Who doesn't like to win something! Instagram is also a great place to raffle off albums, downloads, t-shirts or concert tickets. Of course, ideally such a contest should also provide a good buzz or generate new followers. Therefore, it is also important to think carefully about which hashtags you want to use.
Further it needs a good, expressive picture and of course the price should also be worth something. Finally, it should be made as easy as possible for the fans to participate in the competition. Tools that help with the execution of contests are among others:
https://www.wishpond.com/hashtag-contest/
https://woobox.com/photocontests
https://gleam.io/instagram
Sync or not?
Of course it is convenient to synchronize Instagram directly with Facebook and Twitter. But if your fans follow you on all platforms, it can soon get on their nerves to see exactly the same content everywhere. So you should only post selected posts on all platforms and have a different strategy and direction for each page.
Use all possibilities as a musician on Instagram
As mentioned in the beginning, Instagram for musicians doesn't offer dozens of features. However, those that have been added in recent years should be used occasionally. Besides photos and videos (up to 60 seconds), these are also Instagram Stories, where you can pack several photos and videos into one story. They disappear again after 24 hours. As mentioned above, under certain circumstances you can link or highlight them, so that they are not immediately gone again. Within the stories you can also insert polls (click on the smiley and then select "Poll"). So you can find out the opinion of fans about a certain topic.
A relatively new feature is Instagram Live. Here you can go live on air for up to an hour. Unlike on Facebook, this live recording is not saved in your profile afterwards. Nevertheless, this is a good tool to get in touch with the fans directly. They can also comment live and you can get in touch directly.
Again, it is important to have at least a rough plan of what you want to use this live connection for and to include a "Call to Action".
Use Instagram Live for exclusive content, announce breaking news or alert your followers to special promotions. As mentioned before, it's also a way to get direct feedback from your fans.
Do you have questions about Instagram for musicians?
Then contact our support at [email protected] or write us in the chat.